Sales Manager Pro
The Power of Sales Manager with the Convenience of Windows





Vendio is an
eBay Certified
Solutions Provider

Create listings offline with the power of Sales Manager Merchandising Edition and the convenience, familiarity, and speed of a Windows application. Easily list tens, hundreds, or thousands of items in bulk, and upload them at once to save time!

Sales Manager Pro is FREE! with Sales Manager Merchandising Edition and Vendio Stores!


What's New in Sales Manager Pro 7.0

• Easier shipping carrier selections


Choose more carriers from a better-organized list.


• Enhanced shipping options


Specify free shipping on BIN or Vendio Store purchases.


• Shipping insurance support


Specify the shipping insurance amount globally or per item.


• International shipping support


Specify your international shipping options globally or per item.

• State sales tax support


Specify your state sales tax rates globally or per item.


• eBay Stores 2nd category support


Select your eBay Store 2nd category for new listings.


• Added eBay Motors support


Set the duration of your eBay Motors listings.


• Improved eBay Checkout settings


Calculate shipping, insurance, and tax amounts automatically.


See the complete feature list and compare versions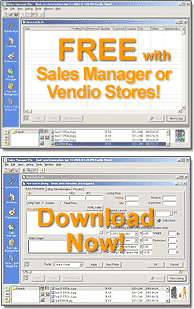 Create Listings with Speed and Precision
Create listings offline quickly with the features of Sales Manager Merchandising Edition and the speed of a Windows application. Simply upload your listings when you are finished - it's that easy!
Create Professional Looking Listings
Sales Manager Pro makes it easy to create attractive and professional listings with custom templates and a built-in HTML editor.
Free Scheduled Listings
Schedule your listings for later - at no extra charge - and walk away. Vendio works around the clock so you don't have to.
Get Started Quickly
Sales Manager Pro makes it easy to import your previously created data. Use the Inventory Importer or the Batch Importer to import from a variety of popular sources such as comma and tabbed delimited files, Microsoft Excel, Access and other ODBC databases.
Save Time with Post-Sale Management
Cut your order fulfillment time by over 75%. Vendio provides automated solutions to invoice customers, receive payment notifications, print packing slips and address labels, send shipping notifications, track orders, and maintain all of your records.
Minimum System Requirements
• Pentium Class computer
• 32 MB of RAM or more
• Windows Vista/XP/2000/NT/ME/98/95
Installation Instructions
Click the Download Now button to start the download or get it here.
Click Save or Save this program to disk at the prompt.
After the download is complete, click Open to start the installation.
Follow the directions on the screen to complete the installation process. We recommend you close all Windows applications before proceeding further.
If you are upgrading from a previous version, please note the following:

If your previous version was installed in a folder other than the default:
\Program Files\Vendio
be sure to click Browse on the Choose Destination Location page and choose the same folder as your previous version so that Sales Manager Pro 6.1/7.0 can find all your previous data and settings.
The very first time you open a batch or inventory created in a previous version, Sales Manager Pro 6.1/7.0 will automatically perform a one-time conversion to its new file format. Depending on the batch or inventory size, this may normally take a few seconds up to a few minutes for very large files.
Version: 7.0 • Release Date: 11/17/2005 • File Size: 10.5 MB
| | | |
| --- | --- | --- |
| | Copyright © 1998 - 2017 Vendio Services, Inc. | International Sites |